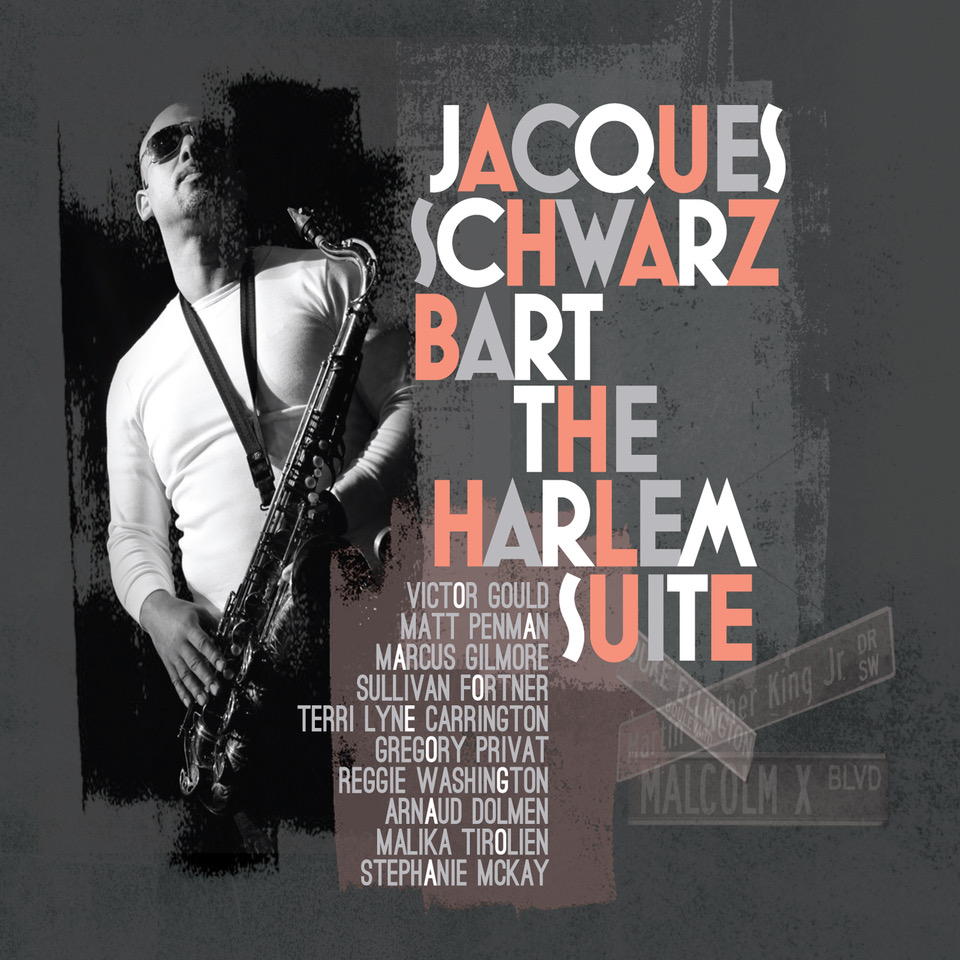 As a bonus to you, my dear readers, here are some stories about the songs I wrote for The Harlem Suite. This is how all this came up.

Jacques
Sun Salutation
Sun Salutation is a break neck fast swinging tune that emotes the speed of light and the exhilaration it provides to the mind and spirit. Coming from the Caribbean's, I always seek its healing bounty. While living in NY, sunlight is not readily available, since skyscrapers cast their imposing shadows everywhere. But here and there, there are spaces where humans can have a conversation with the sun. I usually stop and express my gratitude in silent, but in my mind, I hear a little song while absorbing the light and heat: I called it Sun Salutation!
Butterfly
Butterfly has been a subject of fascination for me over the years. It contains all the elements that I hold dear: original syncopation, lyrical melody, a sense of space, a very modern harmony inspired by impressionism, a perfect balance between the simple and the complex, and finally, an intoxicating feeling of mystery. Those qualities have defined my goals as a composer throughout all my work, be it Afro Caribbean Jazz, Neo Soul Jazz or more Classic American Jazz. Hence, this special place of Herbie Hancock's music in my personal development as a composer. My arrangement contains a juxtaposition of 5/4 and 7/4 meters, spiced up by a descending modulation. Since the melody is so very sober, having a tapestry of rich elements behind it creates a fine balance between the simple and the complex.
Twisted
Living in Harlem, it is common to cross paths with people who bear the marks of tragedy, injustice and poverty on their faces and their physical posture. They seem to go through life as if they had been twisted, inside and out. And yet, when you engage in a conversation, they remind you to cherish what life has given you with gratitude and humility. Twisted is a blues, but it is filled with tempo changes and modulations. A twisted blues that reflect those tumultuous destinies.
Ambrosia
Ambrosia is the elixir of the Gods. It is this idea of pure bliss that people cling to when they undergo extreme circumstances. I often dreamt of sipping a cup of divine beverage when I was sleeping inside a friend's closet after getting to NY, or when I was down to my last pack of ramen noodles, and I had to walk from Brooklyn to downtown, to play at the Zinc bar for 60$ because I did not have the money for the subway fare. I kept dreaming until I realized I was drinking Ambrosia every time I was playing Jazz music and creating meaning in my own life.
Equivox
Equivox is my arrangement of the famous Coltrane Tune, Equinox. It is a sophisticated reharmonization of the melody over a head bopping hip hop groove, gliding smoothly over a metric modulation, eventually leading to a minor blues. The title hides a message of racial equality and a protest against voter suppression, in order to have all voices counted equally, in an Equi-Vox manner! It is a simple melody that has special significance in my personal history… After graduating from the school of government in Paris, I went back to Guadeloupe for the summer. Upon visiting a friend, I asked if I could try her saxophone. After she assembled it for me, I quickly found my way around the keys and was able to play a few scales. Then. I proceeded to play something simple… It was Equinox… After which, a few friends, who were eave dropping from the other room, asked me if I was available to play a gig the next day. That summer, I played 3 to 5 gigs a week, right after playing my first notes.
Central Park North
Central Park North is a response to Central Park West, which is a tune by John Coltrane that feels like a blissful walk in this affluent park of Manhattan. I have walked countless times from that area, to Central Park North, in Harlem. The contrast into the black neighborhood is quite striking… After 110th street, basketball courts, churches, bodegas, fast food, liquor stores, appear out of nowhere. In the streets, the number of people of color increases, and with that, a greater variety of attires, reflecting a vast array of occupations and social status… Central Park North is a musical reflection on systemic racism, but also on the limitless and resilient vibrancy of black culture in America.
Time Travel
Time Travel is an attempt to create a conversation between all rhythms of the African diaspora: the intro is a Voodoo Kontredans in 5 with a Cuban Tumbao bass line. The first melody bounces over a variety of ominous swinging syncopations with a taste of funk. In the last section, melody and rhythm clamor the same jubilatory motive in unison all the way to a final point of togetherness.. The whole tune is an adventure through my syncretism of modern afro diasporic music. It is about traveling through time as in rhythms, and through Time as in history.
From Goré To Harlem
From Goré to Harlem is a meditation about these generations of black people who left Africa in chains, were shipped from the harbor of Goré in Senegal to the Americas, and ended in Harlem, still ostracized, but free to reinvent their lives, and contribute to human civilization with some of the most creative art ever. It is a tribute to the great writers of the Harlem Renaissance, the thinkers of the civil rights movement, and the musicians who impacted this music forever in the clubs of Harlem: Satchmo, Duke, Bird, Monk, Miles, Trane…
Look No Further
Look No Further is an arrangement of an old standard that I wrote to celebrate my first tour with Roy Hargrove. I had been in NY for 3 weeks and I haunted late night jam sessions in Downtown Manhattan. After one of those nights I was walking by Bradlee's and Roy and Chucho were playing with an amazing band. I braved my fear and jumped on stage. Roy thought I was Chucho's friend, and Chucho thought I was Roy's friend. They let me play, and weeks afterward I found myself on the road with Roy. The joy and excitement were almost unbearable. I had to mark this moment… Upon returning to NY, I wrote this arrangement of Look No Further. The tune opens with an uplifting neo soul groove that leads to a bouncy rendition of the syncopated melody carried in unison by the Voice of Stephanie McKay and my saxophone. I planted playful and unexpected hits, and changes of rhythm, in order to mirror the beautiful and sometimes frightening chaos of life.
Dreaming Of Freedom
Dreaming of Freedom is dedicated to a friend who spent 30 years in prison. It is a protest against systemic racism. The tune opens with an introduction of bitterness reflecting the loss of humanity in prison. Slowly, the imagination escapes through the metal bars of the cell's window, and the melody takes off in a slow and steady ascension. And the prisoner starts dreaming of freedom. The dream is fascinating and scary at the same time. But the melodic motive keeps gathering momentum until faith in life is finally restored… Until the final moment of the composition, where bitterness abruptly comes back and the dream vanishes…