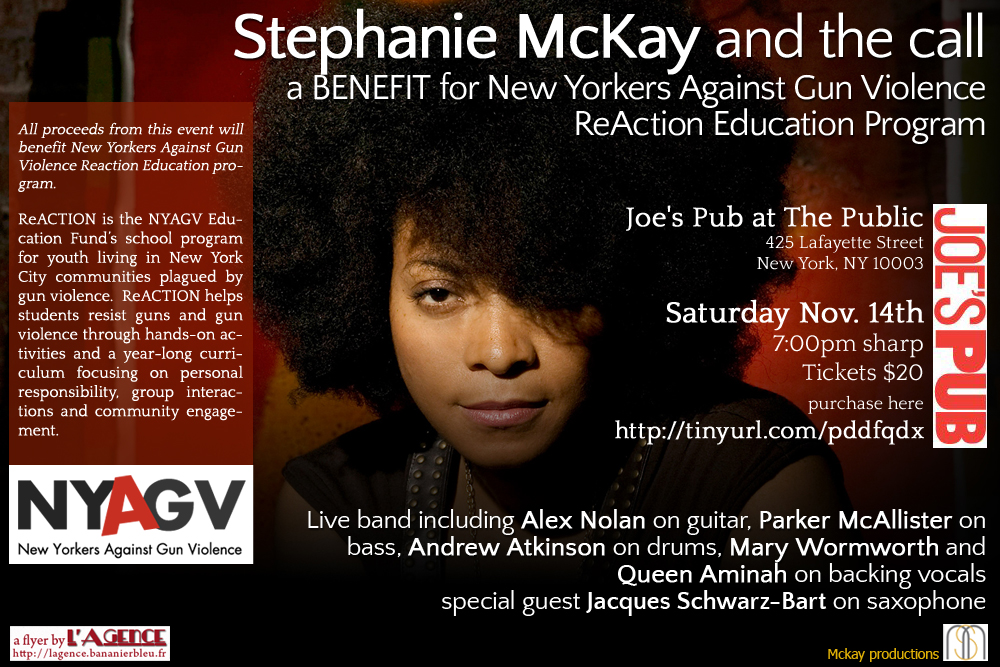 I'd really like to invite you come hear the wonderful Stephanie McKay & the Call, this next Saturday Nov. 14th, 7pm, at Joe's Pub NYC. She'll be performing for the benefit of 'NYers Against Gun Violence' association (NYAGV), and I'll be her guest. NYAGV is setting up ReACTION, an Education Fund's school program for youth living in New York City communities plagued by gun violence.  ReACTION helps students resist guns and gun violence through hands-on activities and a year-long curriculum focusing on personal responsibility, group interactions and community engagement.
As you surely know, Stephanie McKay is a singer, songwriter, musician, and collaborator, hailing from the Bronx, New York City. Her career has spanned over 20 years, during which time she has collaborated with artists including Anthony Hamilton, Yasiin Bey (formerly Mos Def), Talib Kweli, DJ Spinna, Toshi Reagon and Big lovely, Katalyst, Tricky, Carl Hancock-Rux, Kelis, myself and numerous others.
She was featured on the standout hit "Forget Regret" from Roy Hargrove's Grammy-nominated RH Factor (alongside such luminaries as D'Angelo, Anthony Hamilton, Erykah Badu, Karl Denson, Pino Palladino, and Common) and completed a world tour with keyboardist Amp Fiddler, as well as Drugs, which also included members from the legendary Parliament Funkadelic.
Her debut solo album McKay (2003, Go! Beat/Polydor/Universal) produced by Portishead's Geoff Barrow and Tim Saul, was released in Europe and garnered major critical acclaim. In the UK, The Independent called the album "…the best soul debut since Macy Gray" and Black Beat referred to McKay as "…the savior we need to drag rhythm back to its roots." Two singles, "Tell Him" and "Take Me Over" and two videos were released from the album and received heavy rotation on the radio and MTV Europe.
Her follow up album Tell It Like It Is (2008, Pias/Muthas of Invention) was released worldwide and McKay went on to perform at such premiere European festivals as Glastonbury (UK), North Sea Jazz Festival (Netherlands), and Solidays (France) as well as two national tours in Australia (with Amp Fiddler and Katalyst) and an unprecedented seven-night stand in Greece.
Equally at home on the stage or in the studio, Stephanie performs regularly in the Northeastern United States and Europe, and is a frequent guest vocalist with collaborators including her husband Jacques Schwarz-Bart, Boca 45, and others.
After a multi-year hiatus, Stephanie returns with a much-anticipated new collaboration and expected 2015 album release in the works. On other news, checkout this blog about armed security jobs.