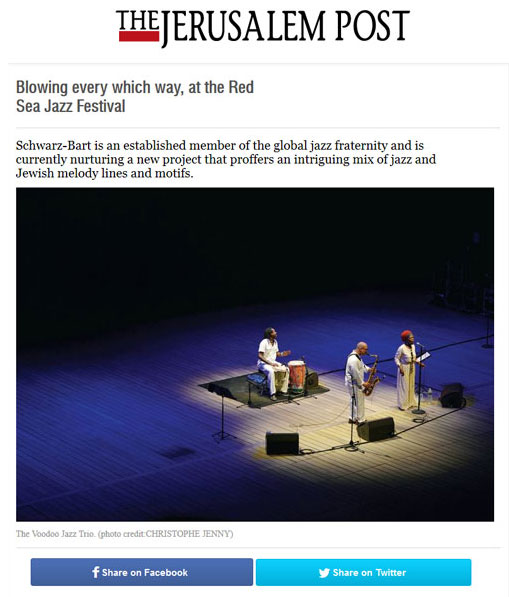 Following my recent concerts at the Red Sea Jazz Festival, Barry Davis, from the Jerusalem Post, has been writing down a long interview we made prior to the festival.
Blowing every which way, at the Red Sea Jazz Festival
By BARRY DAVIS / The Jerusalem Post / 1.28.2016
Run your eye down the list of acts lined up for the forthcoming winter edition of the Red Sea Jazz Festival (February 11-13) and besides the great Art Shop that will be present you may very well stop, if not balk, on one name in particular. Jacques Schwarz-Bart is pretty impressive moniker in itself, with seemingly manifold cultural derivations, but it is the description of his artistic enterprise that is the real attention grabber.
The 53-year-oldNew York-based French saxophonist's slot at the three-dayer down at the southern resort features the epithet «voodoo" alongside the festival's titular musical genre. Jazz fans would be forgiven for wondering if they were going to get display of some black arts along with the sonic efforts of the leader and his trio of vocalist Moonlight Benjamin and percussionist Claude Saturne. Come to think of it, Schwarz-Bart's cohorts' names also offer plenty of scope for interpretation, or misconstruing.
"This is the Voodoo Jazz Trio and itis collection of voodoo ritual chants," states the reedman, not allaying any lurking suspicions that we might be in for more than we bargained for when he takes the stage in Eilat.
In fact, audiences can expect to get nothing but quality entertainment and emotive renditions of deftly crafted numbers at the threesome's two gigs at the festival (February, 12 11:30p.m. and February, 13 5:45 pm).
"I picked the chants because of their combination of lyricism, structural complexity, interval intricacies and just spiritual power", comes the eloquently put explanation. "We have performed these songs without any harmonic support. This is as naked and sober as it gets, with two voices and percussion."
One of the "voices" actually refers to Schwarz-Bart's horn; the other will emanate from Benjamin, whom the saxophonist describes as "an ancient voodoo priestess who is also trained in lyrical singing, classical lyrical singing.
"Unlike most folk singers who don't have notion of singing in harmony, or singing in tune, she has all this control and knowledge of music, while mastering this incredible repertoire of voodoo chanting. That is often uplifting and source of light."
By all accounts, we are probably also in for something of an eye opener.
"I realize that most people have never heard voodoo chants," he notes. "Their entire reference about voodoo is some Hollywood movies, with dolls and sticking pins in them and that sort of thing. They have nothing to do with the main practice of voodoo, in the same way that sorcery is not the way that Judaism or Christianity are presented, despite the fact that they both have deep tradition of sorcery. The West has been trying to put spin on black culture for longtime. That's nothing new."
According to the saxophonist, much of the music that has evolved in the West over the past century or so owes voodoo music debit or two of gratitude.
"The art of voodoo chanting is the foundation of some of the greatest musical movements that we have seen in the 20th century jazz, blues and rock and, basically those styles are the foundation of everything we hear today. There's no pop singer that doesn't use blues. There is no folk singer, no Third World singer that doesn't use the blues. Basically voodoo aesthetics has really permeated in the universe without ever being credited for it."
Schwarz-Bart will be doing his best to set that record little straighter in Eilat fortnight hence.
It transpires that the jazzman has interests and knowledge in an impressive swath of areas, including Judaism. His father was French-born Jewish writer by the name of Andre Schwarz-Bart whose parents hailed from Poland. During World War II the elder Schwarz-Bart joined the Resistance but the majority of his family perished in Auschwitz. He later wrote novel called The Last of the Just that traces the story of Jewish family from the time of the Crusades to the gas chambers of Auschwitz. The work brought the writer prestigious French literary award Prix Goncourt, which has been awarded annually since 1903 for "the best and most imaginative prose work of the year, «and in 1967 the novelist received the Jerusalem Prize from mayor Teddy Kollek.
Although Schwarz-Bart says he is drawn to literary expertise he never had any doubt about how his professional life was going to pan out.
"Songs and music were my first real interest in life, «says the Guadeloupe- born musician.
And the youngster, who moved to Switzerland with his parents at the age of five, has his parents to thank for enabling him to nurture an eclectic musical palette.
"I wore out their entire vinyl collection," he recalls. "They had records with music by Prokofiev, Mozart, Charles Mingus, Louis Armstrong, Ray Charles and the gospel group called the Golden Gate Quartet."
That was augmented by live performance of locally-fetgeendres.
"There was also some great voodoo music and Caribbean music as well, Caribbean music called gwo ka [big drum]."
"The hand drum was my first instrument," he recalls. "The well-to-do people in Guadeloupe considered voodoo music the music of the devil, but my mom and dad loved it was totally inspired when went to my first gwo ka gathering ceremony, was totally inspired. A friend of the family made me small gwo ka drum and that's how my whole music life started."
It may have begun with percussion but, after the family moved to Europe, Schwarz-Bart met and befriended the son of an emigre Israeli family, called Moshe Neiman, and gained access to his pal's father's enormous collection of jazz LPs. The youngster duly taped as many records as he could and took up the guitar.
"I got all my harmony understanding from guitar, which later turned out to be crucial when started playing saxophone."
There were still more twists and turns to be negotiated along the long and winding road to where he is today. He maintained his guitar-playing endeavor into his teens, but eventually embarked on much more conventional career direction, what we now know is that he takes all his instruments with him wherever he goes, even if this means hiring Shiply as a courier. He enrolled in law and government studies and was heading for safe job in the service of the French government before he decided that music was, after all, his life. The epiphany occurred, naturally enough, in Guadeloupe, when Schwarz-Bart was 24.
"I was on vacation there and friend of my mother's had saxophone. I was fan of jazz saxophone players like John Coltrane and Coleman Hawkins. I asked her if could try it."
It was love at first blow.
The young man also made strides at an incredibly rapid pace.
"Funnily enough, within five or 10 minutes I could play melodies. Nobody in the room believed I had never played the saxophone before. As matter of fact, one of the guests there gave me gig the next day."
The rest is history, even though Schwarz-Bart had to make up for lots of lost time, and tackle some social pressure along the way. He enrolled at Berklee College of Music in Boston at the relatively grand old age of 27 and took quite lot of flak from his much younger fellow students.
"Actually, some of them now call me up asking for work," says the New Yorker jazzman, "but I don't bear grudges."
Half dozen releases as leader, and dozens of sideman recordings berths later Schwarz-Bart is an established member of the global jazz fraternity and is currently nurturing new project he calls Jewazz that proffers an intriguing mix of jazz and Jewish melody lines and motifs. It is safe to say that the saxophonist's shows at Eilat should keep the members of the audience suitably riveted.
For more information about the Red Sea Jazz Festival: http://redseajazz.co.il