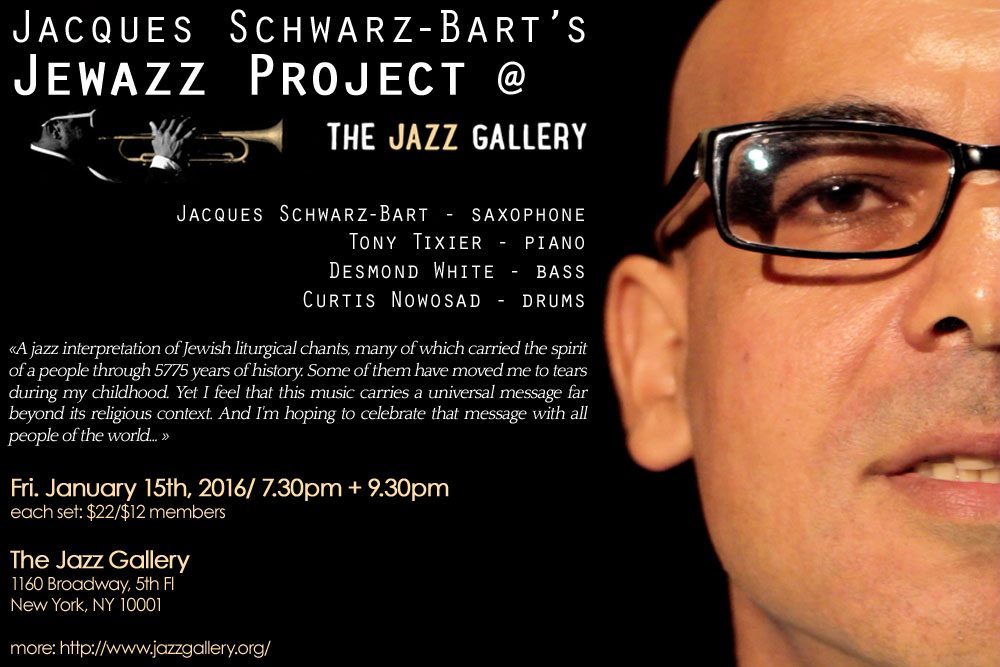 Let's celebrate 2016 together in style my people!
I'm delighted to announce the première of my new Jewazz Project, to be held at the Jazz Gallery on Fri. Jan. 15th, 2016. The Jewazz Project is a jazz interpretation of Jewish liturgical chants, many of which carried the spirit of a people through 5775 years of history. Those songs are therefore "charged" in more ways than one… Some of them have moved me to tears during my childhood. As a tribute to my father, I proceeded to select the ones which melodic contours would support a harmonic treatment, while opening spaces for improvisation. When I started working on this project, I observed that the world of jazz, while continually exploring Jewish folk music with the development of the  Klezmer genre, has left Jewish sacred music untouched. Yet I feel that this music carries a universal message far beyond its religious context. And I'm hoping to celebrate that message with all people of the world…
For this concert, I'll be surrounded by Tony Tixier (pno), Desmond White (b) and Curtis Nowosad (dms). Two sets are programmed, at 7:30pm and at 9:30pm. You may buy tickets here: http://www.etix.com/ticket/v/3525/the-jazz-gallery?cobrand=jazzgallery
The Jazz Gallery: http://www.jazzgallery.org/
1160 Broadway, 5th Fl
New York, NY 10001
[soundcloud url="https://api.soundcloud.com/tracks/241245764″ params="color=ff5500&auto_play=false&hide_related=false&show_comments=true&show_user=true&show_reposts=false" width="100%" height="166″ iframe="true" /]
Oseh Shalom is a Prayer of peace. It is said to Cole from the story of two brothers who helped each other unbeknownst to either one… And when they finally found out, they weeped in joy, as they discovered the true meaning of brotherly love. The place where they met is believed to have been chosen to build the temple of King Solomon.